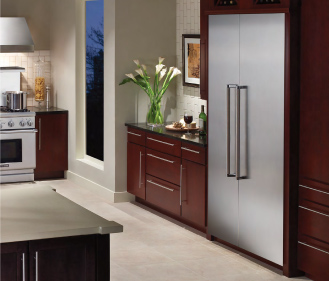 FREEDOM® COLLECTION
FREEDOM TO CUSTOMIZE. FREEDOM TO GO MODULAR
FREEDOM TO INTEGRATE YOUR REFRIGERATION WITH THE
DESIGN OF YOUR KITCHEN. THAT'S WHAT MAKES THE
THERMADOR FREEDOM REFRIGERATION THE LEADER IN
TRUE FLUSH, TALL DOOR DESIGN.
Our highly awarded products – available in 18", 24", 30" and 36" widths that can accommodate stainless or your own custom panels – offering the most design choices in the industry. The Freedom Collection allows you to configure your own unique combination of bottom freezers, fresh food freezerless refrigerators, freezer and wine preservation columns, as well as our pre-assembled bottom freezer collection.
DISCOVER THE FREEDOM® COLLECTION
FEATURE HIGHLIGHTS
Discover how the Thermador Freedom Collection facilitates a complete range of new and unique possibilities for your cutting-edge kitchen design.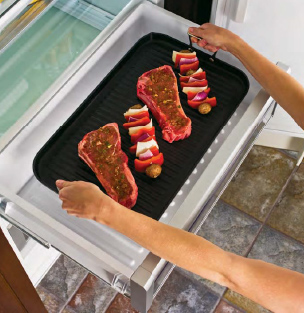 THEATER LED LIGHTING
Theater LED lighting fades in when the unit is opened and illuminates all items from the front and sides – so that all food can be seen – and nothing remains overlooked or forgotten.
PERFECT INSTALLATION
Our unique door panels allow for perfect adjustability. Every panel can be adjusted horizontally, vertically, forward and backward to ensure an ultra-fit, integrated refrigerator installation within a 25-inch deep cabinet.
DEDICATED EVAPORATOR &
COMPRESSOR SYSTEMS
Each Fresh Food and Freezer column has its own evaporator and compressor to eliminate odor transfer and keep food fresher, longer, with better humidity and air flow.
FREEDOM HINGE
Engineered specifically for the Freedom Collection, all units feature a heavy duty hinge that can open to 115°, allowing full-height, integrated doors and Truly Flush Mounted installation without sacrificing accessibility. The hinge also supports virtually any wood panel on your custom panel refrigerator column or bottom freezer.
PRE-ASSEMBLED CONVENIENCE
Our special pre-assembled bottom freezers are ready to install and are equipped with flat stainless steel panels, as well as Professional or Masterpiece® handles.
FULL-EXTENSION DRAWERS
Full-extension drawers offer convenient access. Drawers can even be opened with a 90° door opening, accommodating many kitchen designs. Drawer rails are designed to glide perfectly even when fully loaded.